Moonlight in Vermont 2008
It's hard to believe how much time has gone by already since the weekend..., sometimes I feel I still have DJ Richard's tunes still in my ears and the unique floor of the great ballroom at the Brandon Inn still under my dancing feet!

I would like to once again thank all of you for participating in this year's 'Moonlight in Vermont' Tango Festival. I have so far resisted calling it a festival, but it's grown to such a special weekend, it deserves to be called on par to any of the festivals I have visited over the years of my tango dancing.
Thanks to all you, the dancers that showed up and really made it an amazing and unforgettable weekend!
We hope you can join us again next year, Sept 11-13th, 2009!
Once more very special thanks to all the teachers for their great classes, to Richard Lipkin for the fabulous music at the milongas, the owners and staff at the Brandon Inn, which made all of it possible.
Particular thanks to Lydia and Clement for the tireless help in promoting the weekend in Montreal and beyond - Je ne sais pas beaucoup de Francais, mais c'est a dire: Merci bien!!
Special thanks also to Judith from Brattleboro for all the help and filming, Eloise in Burlington and Cathy in Rutland.
There are too many thanks to name all, but one not to forget: Thanks to Hugo Stabio from Luigi Bosca winery and Testa wines, the wines are delicous!
With heartfelt thanks,
hugs and best greetings from Brandon, Vermont,
yours, Gerd

It is absolutely a Festival!! It was such a pleasant surprise to see how much it has grown. Congratulations on a job well done!! We had a fabulous time. Lots and lots of great dancing. So many nice people - wonderful vibes everywhere. Most definitely coming back next year.
Thanks for everything.
Rena
I had a great time at your weekend - it certainly is a FESTIVAL - and I think it has developed into one of the best.
Have already marked my calendar for next year. You did a great job of organizing - and the wines add the finishing touch.
The only comments I have are: All the teachers were great - but I especially loved Ariel and Lorena - hope they return next year.
It was also nice having the venue ALL in the Brandon Inn - but I thought the floor space was too small for some of the group sizes.
Thanks again for all - Holly
(We will definitely have larger floors for next year!)


Thank you for a wonderful weekend. My husband and I enjoyed ourselves very much and learned a great deal about argentine tango (although we have a great deal more to learn). I understand from talking with people in the area that your tango festival has certainly grown and hopefully will continue to prosper. My only concern (and it is a minor one), is that the portable dance floors were much too small and it was sometimes frustrating not being able to have the floor space (we did as much as we could on the carpet). Other than that, a thoroughly enjoyable weekend. Vermont is beautiful. Thanks, again. Sara and Robert .
Hola Gerd!
Mate, it was a very nice weekend!
Chau! Hugo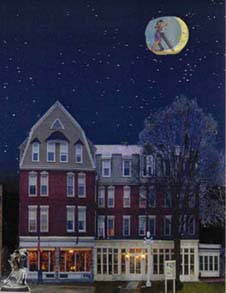 2008 Performance videos on Youtube!
VIDEO: Moonlight in Vermont Group Dance #1 ,#2

Roxana & Fabian Belmonte (Tangodeoro.com)
VIDEO: Roaxana&Fabian, #1, #2, #3.
Beatrix Satzinger & Michael Young (EmbraceTango.com)
Sorry they couldn't make it this year:
Fed says: no visa! No dance...!
Lorena Gasse & Ariel Barrionuevo
VIDEO: Ariel & Lorena Canyengue, Tango, #2
María Olivera & Gustavo Benzecry Sabá (Tangosalon.com.ar)
VIDEO: Gustavo&Maria, Milonga,Tango, #1,#2
& special guests:
Clement Lafond from Montreal
Dianne Lachtrupp & Johnny Martinez from New York
Mary Ellen from Boston
VIDEO: MaryEllen & Gerd Improv
DJ Richard Lipkin from New York City
Warm-ups with: Ana di Tursi
Location: The Brandon Inn
A historic Dutch Colonial Inn with a beautiful old ballroom!